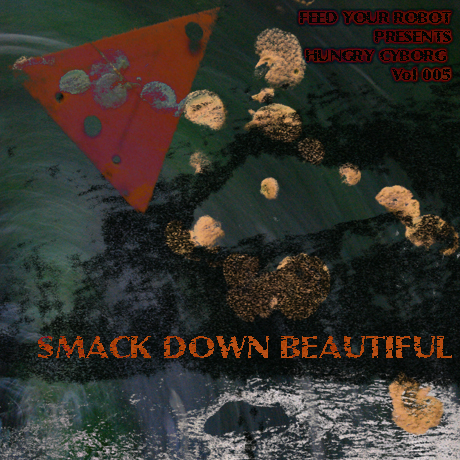 Feed Your Robot Presents
Hungry Cyborg Pod cast #005
Smack Down Beautiful
Mixed By
Kalaedoscopic Ben
Swim Deep in a Sea of Abstract Electronic and House music, sorry if the waters are occasionally murky with my mix stylee! Get Down with A.D.D. yeah you know me!...
Much Love. Keep on Keeping the Dream Alive!
TRACKLIST
1 Love Juice (Moulinex Edit) Symbolone
2 Brainwaves Coco Solid
3 Vibrating Vegtable The Rip Off Artist
4 These Girls Valerie
5 The Love Song (Live in Berlin) Little Jinder
6 Cordialatron Caustic Window
7 The Bird Catcher's Return Boom Bip
8 Prix Choc Super Discount
9 Spare Parts Express Orbital
10 Liquid Gel Metamatics
11 One Night In Rio Lutzenkirchen
12 Where's Your Head At? Basement Jaxx
13 Star Chaser (Masters At Work Main Mix) 4 Hero
14 Playmate (Jesse Rose RMX) Roxy Cottontail
15 Metamorphosis Philip Glass
16 Sweaty Balls Ruede Hagelstein
17 Cantus Digitonal
18 Push Your Mind (Break Mix) Psycho On Da Bus
19 Tone Poem Fischerspooner
20 It's Tomorrow Already Irresistable Foce
21 Night Tripperz Felix Da Housecat
22 Tenderoni (Sinden Rmx Feat. Kid Sister) Chromeo
23 Dj's Got A Gun Robots In Disguise
24 Pump A Guy Called Gerald
25 Twisted Transisteor (Tek Club Mix) Korn/Eric Kupper Electro
26 Proverb Steve Reich
27 Double Diamond The Rip Off Artist
28 Reign UNKLE feat. Ian Brown
29 Rekkit Death In Vegas
30 Bahia Melody Lutzenkerchen
31 Rock This Party (Dub Mix feat Dollarman) Bob Sinclair and Cutee B
32 The Pianist And The Reporter Bangkok Impact
33 Spin Me Round Dead Or Alive

Hope you enjoy the show, and are able to get down on it!
Apologies and Thanks to Artists whose work appears here, Much Love.